How to find... - Tuesday 06 November 2018
Royalty-free pictures and videos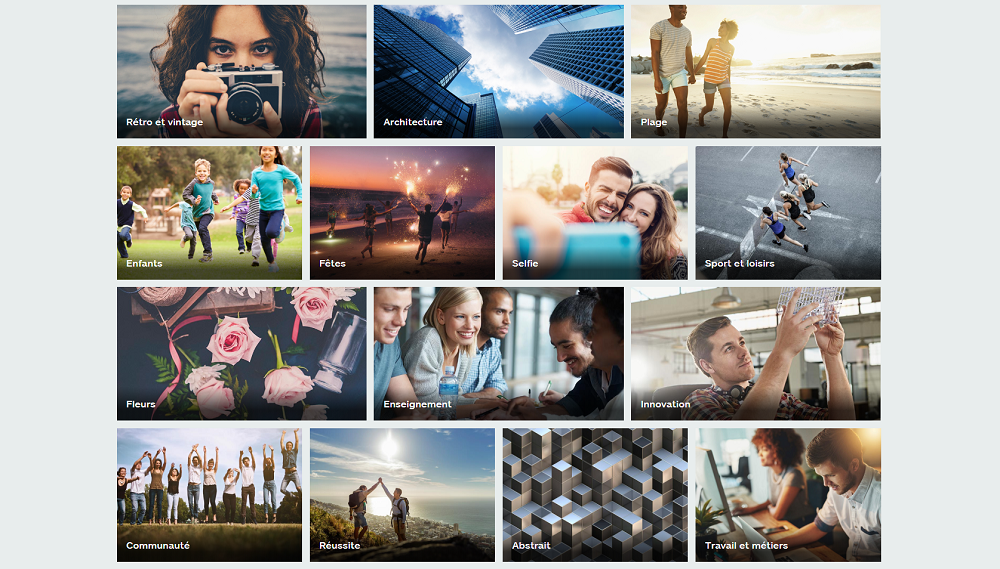 This highlight will cover copyright as it is defined by French law. American Copyright (©) cannot be applied in France. It is very different from the French "droit d'auteur", but it can be used to identify the entity that needs to be contacted to get the authorization to use copyrighted material.
Pictures
There are two types of rights you need to know and respect:
the author's copyright: the picture is protected if its originality is proved.
the subject's rights:

if the persons can be recognized (ie if they are not part of a crowd), you need to make sure they have signed an authorization to use their image in the precise context you want to use it in.
if the picture contains some type of creation (a building for example) that is protected by copyright : you need to make sure this creation can be reproduced. It can be reproduced if it is part of the public domain for example.
Any creation becomes part of the public domain 70 years after the death of its author. The picture can be used for free (no patrimonial rights) but the moral rights of the author must be respected, so you cannot modify it. There is no citation right for pictures: they must always be reproduced as a whole. (see: https://commons.wikimedia.org/wiki/Main_Page)
Videos
Audiovisual works are collaborative: they are created by multiple people who each have individual rights as well as rights over the video as a whole. To use a video, you need the authorization from all the co-authors. Rights are sold/transferred to the producer when a production contract is established.
Open licences
Open source or creative common licenses do not exist neither in French nor in Community law.  However, they do have a contractual value, considering that the contracting party owns the piece's rights. These licenses, created in 2002 by Lawrence Lessig, aim at making easier digital pieces dissemination thanks to a relaxing in the copyright. They start with the most open license (no attribution required, any use authorized) to the least open (attribution required, no derivatives and no commercial use) going through all the stages in between (commercial use authorized or not, derivatives accepted or not, attribution required or not).

Simon Villeneuve CC BY-SA
Resources
Websites listed below give access to images or videos under open license (restrictions might be applied as mentioned above) or in the public domain.
Videos for all purposes without authorization to ask or credit to give.
Pexels : photos and videos that can be searched by keywords.
Pixabay : a very large repository of photos and videos.
Videvo : more than 23 000 videos that can be searched by license type.
Pikwizard : has over 100,000 completely free images (CC0), with over 20,000 exclusive, and a lot of pictures of people.
Good practice
Always ask for an authorization if it is not clearly stated by the copyright holder for the use you consider doing: inside a school or a company, outside, for commercial or non commercial purpose.
When the permission has been given, the source must be cited to avoid plagiarism. Plagiarism is also a copyright infringement referred to as counterfeiting