Comment faire... - Tuesday 12 June 2018
Create and film your videos with K-lab tools
Want to produce a short video? The K-lab provides you with multimedia tools to record and edit your film. According to your needs, you will be able to use the Self service recording studio, the audiovisual kit or the multimedia softwares.
Using the Studio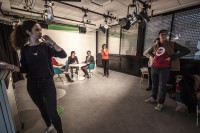 Based on a videobooth principle, the Studio allows you to shoot professional-quality video. All settings are made through the main console, no technical adjustment has to be done.
To get more details about the Studio and its functioning, you can participate in the next workshop on how to use the Self service recording studio.
The Studio is now equipped with a live chroma keying function. You have access to a lesson about the Studio Self on Moodle platform.
You can book the Studio online with Affluences.
Audiovisual kits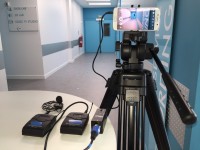 Users can come and borrow audiovisual kits at the Learning Center welcome desk. The kits are composed of a lapel microphone (transmitter, receiver, gain) and a tripod designed to fix a smartphone.
It is strongly recommended to attend the K-lab workshop "filming with your smartphone" prior to using the kit as the microphone functioning is explained during the workshop. You have also access to a tutorial video about Audiovisual kits on the Moodle Platform. 
You can contact us at to reserve a kit.
Multimedia softwares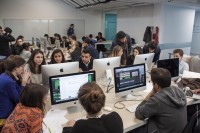 The Design lab in the K-lab is equipped with Mac computers on which multimedia softwares are installed such as: Premiere Pro, iMovie, Adobe Suite, etc. Users can use them to edit their video.
Editing workshops are regularly organised, register in them and learn how to use these tools!